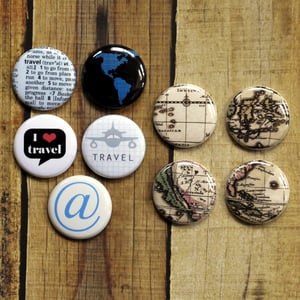 $

3.50
2 Sets Available
Travel
Vintage Maps
TRAVEL:
Dictionary Description
World Map
I heart travel
Airplane
@ (at symbol blue)
Set of 5 badges.
VINTAGE MAPS:
4 Vintage Maps
Set of 4 badges.
Each badge is 1" in diameter & comes with a foam dot on the back.
All designs are printed on high quality photo paper for best quality.